All Kanji (Gyosho-tai)
Gyosho-tai (semi cursive script) which is written in a simple and expressive style.
This is the explanation of Gyosho-tai , one of the style of handwriting in Kanji. As explained before, the Kaisho-tai uses the solid strokes and dots, however, the Gyosho-tai uses that the dots and strokes are smoothly conected and the characters are expressed smoothly and beautifully. Therefore, the Gyousho-tai is the one which can make the characters to give their soft or solid impression. Also, this writing style can even express the feeling of the person who wish to show in the characters by changing stroke length and thickness with the brush touch. So, this style is quite expressive. Gyosho-tai also originated from the time of Shin Huang-ti in Qin dynasty who started to summarize the many different writing styles used in the country side and unified them into the convenient and easy style for hand writing. It is said that the form of Gyosho-tai was completed by Wang Xizin in eastern Jin period. Now,his work is still used as an important classics. Gyosho-tai is daily used as it is easier and quicker to write with its flowing and elegant styles. The features of Gyosho-tai is as follows; 1. This style makes the characters to be smooth curved shape as a whole. 2. The brush flows are smoothly curved, so that it makes the strokes and dots to be smooth roundness, 3. By adjusting the pressure and speed of the brush touch, you can feel the dynamic impression on the characters. This style is said that it gives the feeling of stillness and flow, wet and dry, solid and soft and makes the characters to be very fascinating. It is simple to use it in daily lives such as letters, appreciation letters, and greeting letters and it also enables people to express themselves well in using Gyohso-tai.
Item List
Calligrapher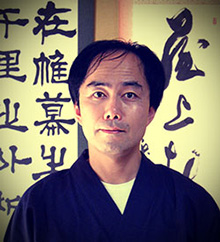 Seigakudou(静岳堂)
Seigakudou(静岳堂), a working calligrapher and native Japanese, will write your name in Kanji. Rather than a computer font, your kanji name will be hand-brushed by a professional calligrapher.
Translator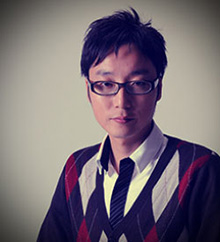 Akira Katakami(片上明)
The translation from English to Japanese will be undertaken by a professional native Japanese translator with a kanji proficiency qualification, you can be sure of an error free standard. Also, an explanation of your kanji name will be provided in English.